SPAM, don't we hate it when our inbox is full of credit card offers, insurance policies and billions of pounds that some rich dude left for you in his will? Everyone wants to get rid of them but somehow, some stupid website out there keeps leaking on our email address and we keep receiving stupid junk emails.
We all know that SPAM or Junk Email means unsolicited messages that you receive by email. But here is a fun fact:
Spam is named after Spam luncheon meat by way of a Monty Python sketch in which Spam in the sketch is ubiquitous, unavoidable and repetitive.
UPDATE
The new filter guide is on https://github.com/harshvardhanmalpani/Spam-List
You can directly use the file filter_import_for_gmail.xml from github repository and add filters.
———
let us get started with the guide, Please be aware that this guide will remove and block the SPAM addresses permanently.
Step 2: Go to Settings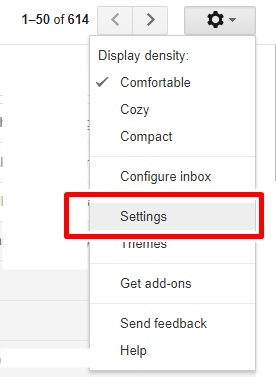 Step 4: In the new FROM field, enter the Email addresses you want to block separated with
" OR "
quotations not required, just [space]OR[space]
and finally click Create filter with this search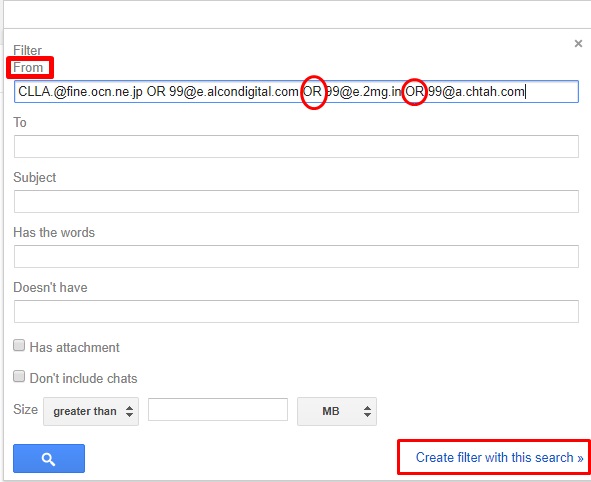 Step 5: Check Delete it and Never send it to spam and Save the filter by choosing Create filter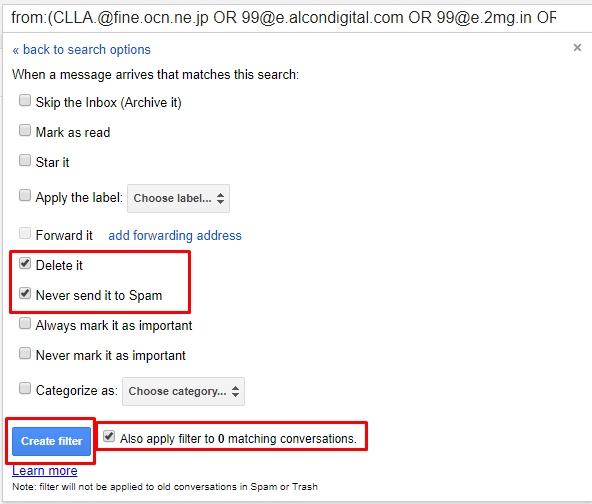 ---
Ready to import gmail filters now available
file contents:

<?xml version='1.0' encoding='UTF-8'?><feed xmlns='http://www.w3.org/2005/Atom' xmlns:apps='http://schemas.google.com/apps/2006'>
<title>Mail Filters</title>
<id>
tag:mail.google.com,2008:filters:1583315594819,1583315594820,1583315594821,1583315594821,1583315594822,1583315594822,1583315594823,1583315594823,1583315594823,1583315594824,1583315594824,1583315594825,1583315594825</id><updated>2020-03-04T15:23:14Z</updated><author>
<name>Harshvardhan Malpani</name>
<email>[email protected]</email>
</author><entry><category term='filter'></category>
<title>Mail Filter</title>
<id>tag:mail.google.com,2008:filter:1583315594819</id><updated>2020-03-04T15:23:14Z</updated><content></content><apps:property name='from' value='[email protected] OR [email protected] OR [email protected] OR [email protected] OR [email protected] OR [email protected] OR [email protected] OR [email protected] OR [email protected] OR [email protected] OR [email protected] OR 9y4m4andv1yhs7jvq4bbwxtv5yiporhlw97iztitqry09glpva07pfdufxzhsjqqlkm7zsfjfs5nvjxz2ubonhenzxozlv24vyftfpwly68sbeddaxwnxtkgbe7mhadyk199bwlwxzcdapz3vtm7xww1rlq@wv8nmu.bestgymworkoutroutines.com OR [email protected] OR [email protected] OR [email protected] OR [email protected] OR [email protected] OR [email protected] OR [email protected] OR [email protected] OR [email protected] OR [email protected] OR [email protected] OR [email protected] OR [email protected] OR [email protected] OR [email protected] OR [email protected] OR [email protected] OR [email protected] OR [email protected] OR [email protected] OR [email protected] OR [email protected] OR [email protected] OR [email protected] OR [email protected] OR [email protected] OR [email protected] OR [email protected] OR [email protected] OR [email protected] OR [email protected] OR [email protected] OR [email protected] OR [email protected] OR [email protected] OR [email protected] OR [email protected] OR [email protected] OR [email protected]'/><apps:property name='shouldTrash' value='true'/>
<apps:property name='shouldNeverSpam' value='true'/>
<apps:property name='sizeOperator' value='s_sl'/>
<apps:property name='sizeUnit' value='s_smb'/> </entry><entry><category term='filter'></category>
<title>Mail Filter</title>
<id>tag:mail.google.com,2008:filter:1583315594820</id><updated>2020-03-04T15:23:14Z</updated><content></content><apps:property name='from' value='[email protected] OR [email protected] OR [email protected] OR [email protected] OR [email protected] OR [email protected] OR [email protected] OR [email protected] OR [email protected] OR [email protected] OR [email protected] OR [email protected] OR [email protected] OR [email protected] OR [email protected] OR [email protected] OR [email protected] OR [email protected] OR [email protected] OR [email protected] OR [email protected] OR [email protected] OR [email protected] OR [email protected] OR [email protected] OR [email protected] OR [email protected] OR [email protected] OR [email protected] OR [email protected] OR [email protected] OR [email protected] OR [email protected] OR cargodliveryunitchica[email protected] OR [email protected] OR [email protected] OR [email protected] OR [email protected] OR [email protected] OR [email protected] OR [email protected] OR [email protected] OR [email protected] OR [email protected] OR [email protected] OR [email protected] OR [email protected] OR [email protected] OR [email protected] OR [email protected] OR [email protected]'/><apps:property name='shouldTrash' value='true'/>
<apps:property name='shouldNeverSpam' value='true'/>
<apps:property name='sizeOperator' value='s_sl'/>
<apps:property name='sizeUnit' value='s_smb'/> </entry><entry><category term='filter'></category>
<title>Mail Filter</title>
<id>tag:mail.google.com,2008:filter:1583315594821</id><updated>2020-03-04T15:23:14Z</updated><content></content><apps:property name='from' value='[email protected] OR [email protected] OR [email protected] OR [email protected] OR [email protected] OR [email protected] OR [email protected] OR [email protected] OR [email protected] OR credi[email protected] OR [email protected] OR [email protected] OR [email protected] OR [email protected] OR [email protected] OR [email protected] OR [email protected] OR [email protected] OR [email protected] OR [email protected] OR [email protected] OR [email protected] OR [email protected] OR [email protected] OR [email protected] OR [email protected] OR [email protected] OR [email protected] OR [email protected] OR [email protected] OR [email protected] OR [email protected] OR [email protected] OR [email protected] OR [email protected] OR [email protected] OR [email protected] OR [email protected] OR [email protected] OR [email protected] OR [email protected] OR [email protected] OR [email protected] OR [email protected] OR [email protected] OR evans[email protected] OR [email protected] OR [email protected] OR [email protected] OR [email protected] OR [email protected]'/><apps:property name='shouldTrash' value='true'/>
<apps:property name='shouldNeverSpam' value='true'/>
<apps:property name='sizeOperator' value='s_sl'/>
<apps:property name='sizeUnit' value='s_smb'/> </entry><entry><category term='filter'></category>
<title>Mail Filter</title>
<id>tag:mail.google.com,2008:filter:1583315594821</id><updated>2020-03-04T15:23:14Z</updated><content></content><apps:property name='from' value='[email protected] OR [email protected] OR [email protected] OR [email protected] OR [email protected] OR [email protected] OR [email protected] OR [email protected] OR [email protected] OR [email protected] OR [email protected] OR [email protected] OR [email protected] OR [email protected] OR [email protected] OR [email protected] OR [email protected] OR [email protected] OR [email protected] OR [email protected] OR [email protected] OR [email protected] OR [email protected] OR [email protected] OR [email protected] OR [email protected] OR hi[email protected] OR [email protected] OR [email protected] OR [email protected] OR [email protected] OR [email protected] OR [email protected] OR [email protected] OR [email protected] OR [email protected] OR [email protected] OR [email protected] OR [email protected] OR [email protected] OR [email protected] OR [email protected] OR [email protected] OR [email protected] OR [email protected] OR [email protected] OR [email protected] OR [email protected] OR [email protected] OR [email protected] OR [email protected] OR [email protected] OR [email protected] OR [email protected]'/><apps:property name='shouldTrash' value='true'/>
<apps:property name='shouldNeverSpam' value='true'/>
<apps:property name='sizeOperator' value='s_sl'/>
<apps:property name='sizeUnit' value='s_smb'/> </entry><entry><category term='filter'></category>
<title>Mail Filter</title>
<id>tag:mail.google.com,2008:filter:1583315594822</id><updated>2020-03-04T15:23:14Z</updated><content></content><apps:property name='from' value='[email protected] OR [email protected] OR [email protected] OR [email protected] OR [email protected] OR [email protected] OR [email protected] OR [email protected] OR [email protected] OR [email protected] OR [email protected] OR [email protected] OR [email protected] OR [email protected] OR [email protected] OR [email protected] OR [email protected] OR [email protected] OR [email protected] OR [email protected] OR [email protected] OR [email protected] OR [email protected] OR [email protected] OR [email protected] OR [email protected] OR [email protected] OR [email protected] OR [email protected] OR [email protected] OR [email protected] OR [email protected] OR [email protected] OR [email protected] OR [email protected] OR [email protected] OR [email protected] OR [email protected] OR [email protected] OR [email protected] OR [email protected] OR [email protected] OR [email protected] OR [email protected] OR [email protected] OR [email protected] OR [email protected] OR [email protected] OR [email protected] OR [email protected] OR [email protected] OR [email protected] OR [email protected] OR [email protected] OR [email protected] OR [email protected]'/><apps:property name='shouldTrash' value='true'/>
<apps:property name='shouldNeverSpam' value='true'/>
<apps:property name='sizeOperator' value='s_sl'/>
<apps:property name='sizeUnit' value='s_smb'/> </entry><entry><category term='filter'></category>
<title>Mail Filter</title>
<id>tag:mail.google.com,2008:filter:1583315594822</id><updated>2020-03-04T15:23:14Z</updated><content></content><apps:property name='from' value='[email protected] OR [email protected] OR [email protected] OR [email protected] OR [email protected] OR [email protected] OR [email protected] OR [email protected] OR [email protected] OR [email protected] OR [email protected] OR [email protected] OR [email protected] OR [email protected] OR [email protected] OR [email protected] OR [email protected] OR [email protected] OR [email protected] OR [email protected] OR [email protected] OR [email protected] OR [email protected] OR [email protected] OR [email protected] OR [email protected] OR [email protected] OR [email protected] OR [email protected] OR [email protected] OR [email protected] OR [email protected] OR [email protected] OR [email protected] OR [email protected] OR [email protected] OR [email protected] OR [email protected] OR [email protected] OR [email protected] OR [email protected] OR [email protected] OR [email protected] OR [email protected] OR [email protected] OR [email protected] OR [email protected] OR [email protected] OR [email protected] OR [email protected] OR [email protected] OR [email protected] OR [email protected]'/><apps:property name='shouldTrash' value='true'/>
<apps:property name='shouldNeverSpam' value='true'/>
<apps:property name='sizeOperator' value='s_sl'/>
<apps:property name='sizeUnit' value='s_smb'/> </entry><entry><category term='filter'></category>
<title>Mail Filter</title>
<id>tag:mail.google.com,2008:filter:1583315594823</id><updated>2020-03-04T15:23:14Z</updated><content></content><apps:property name='from' value='[email protected] OR [email protected] OR [email protected] OR [email protected] OR [email protected] OR [email protected] OR [email protected] OR [email protected] OR [email protected] OR [email protected] OR [email protected] OR [email protected] OR [email protected] OR [email protected] OR [email protected] OR [email protected] OR [email protected] OR [email protected] OR [email protected] OR [email protected] OR [email protected] OR [email protected] OR [email protected] OR [email protected] OR [email protected] OR [email protected] OR [email protected] OR [email protected] OR [email protected] OR [email protected] OR [email protected] OR mali[email protected] OR [email protected] OR [email protected] OR [email protected] OR [email protected] OR [email protected] OR [email protected] OR [email protected] OR [email protected] OR [email protected] OR [email protected] OR [email protected] OR [email protected] OR [email protected] OR men'[email protected] OR [email protected] OR [email protected] OR mi4r0afsovflhcrftx94q9lfpstgmoiz6gni92sjbffurhgrr2ile4ao0lsaxwmdtqwc09cqfxx7jrr1x03xtnryqrnfbbwofhbi4mbl0qxokceuydwr7rveetjrppxnywqn6agv1oyqa66sybsz5kryzu4@bkd7hb.bestgymworkoutroutines.com OR [email protected]'/><apps:property name='shouldTrash' value='true'/>
<apps:property name='shouldNeverSpam' value='true'/>
<apps:property name='sizeOperator' value='s_sl'/>
<apps:property name='sizeUnit' value='s_smb'/> </entry><entry><category term='filter'></category>
<title>Mail Filter</title>
<id>tag:mail.google.com,2008:filter:1583315594823</id><updated>2020-03-04T15:23:14Z</updated><content></content><apps:property name='from' value='[email protected] OR [email protected] OR [email protected] OR [email protected] OR miklejackff[email protected] OR [email protected] OR [email protected] OR [email protected] OR [email protected] OR [email protected] OR [email protected] OR [email protected] OR [email protected] OR [email protected] OR [email protected] OR [email protected] OR [email protected] OR [email protected] OR [email protected] OR [email protected] OR [email protected] OR [email protected] OR [email protected] OR [email protected] OR [email protected] OR [email protected] OR [email protected] OR [email protected] OR [email protected] OR [email protected] OR [email protected] OR [email protected] OR [email protected] OR [email protected] OR [email protected] OR [email protected] OR [email protected] OR [email protected] OR [email protected] OR news[email protected] OR [email protected] OR [email protected] OR [email protected] OR [email protected] OR [email protected] OR [email protected] OR [email protected] OR [email protected] OR [email protected] OR [email protected]'/><apps:property name='shouldTrash' value='true'/>
<apps:property name='shouldNeverSpam' value='true'/>
<apps:property name='sizeOperator' value='s_sl'/>
<apps:property name='sizeUnit' value='s_smb'/> </entry><entry><category term='filter'></category>
<title>Mail Filter</title>
<id>tag:mail.google.com,2008:filter:1583315594823</id><updated>2020-03-04T15:23:14Z</updated><content></content><apps:property name='from' value='[email protected] OR [email protected] OR [email protected] OR [email protected] OR [email protected] OR [email protected] OR [email protected] OR [email protected] OR [email protected] OR [email protected] OR [email protected] OR [email protected] OR [email protected] OR [email protected] OR [email protected] OR [email protected] OR [email protected] OR [email protected] OR [email protected] OR [email protected] OR [email protected] OR [email protected] OR [email protected] OR [email protected] OR [email protected] OR [email protected] OR [email protected] OR [email protected] OR [email protected] OR [email protected] OR [email protected] OR [email protected] OR [email protected] OR [email protected] OR [email protected] OR [email protected] OR [email protected] OR [email protected] OR [email protected] OR [email protected] OR [email protected] OR [email protected] OR [email protected] OR [email protected] OR [email protected] OR [email protected] OR [email protected] OR [email protected] OR [email protected] OR [email protected] OR [email protected] OR [email protected] OR [email protected]'/><apps:property name='shouldTrash' value='true'/>
<apps:property name='shouldNeverSpam' value='true'/>
<apps:property name='sizeOperator' value='s_sl'/>
<apps:property name='sizeUnit' value='s_smb'/> </entry><entry><category term='filter'></category>
<title>Mail Filter</title>
<id>tag:mail.google.com,2008:filter:1583315594824</id><updated>2020-03-04T15:23:14Z</updated><content></content><apps:property name='from' value='[email protected] OR [email protected] OR [email protected] OR [email protected] OR [email protected] OR [email protected] OR [email protected] OR [email protected] OR [email protected] OR [email protected] OR [email protected] OR [email protected] OR pxxdmq2sexjjz6cdggrizvmg3aejy4mb5yhqijcevfwngmxrblptzdiynudkq1fe1nmxpafrjrrbp734op9kcbst9fcuas91e7qyshjvh6oduvjeefk2euvpmadrwzpollvkpiebcolavby4tmb1im4ddig@xulpmm.bestgymworkoutroutines.com OR [email protected] OR [email protected] OR [email protected] OR [email protected] OR [email protected] OR [email protected] OR [email protected] OR [email protected] OR [email protected] OR [email protected] OR [email protected] OR [email protected] OR [email protected] OR [email protected] OR [email protected] OR [email protected] OR [email protected] OR [email protected] OR [email protected] OR [email protected] OR [email protected] OR [email protected] OR [email protected] OR [email protected] OR [email protected] OR [email protected] OR [email protected] OR [email protected] OR [email protected] OR [email protected] OR [email protected] OR [email protected] OR [email protected]'/><apps:property name='shouldTrash' value='true'/>
<apps:property name='shouldNeverSpam' value='true'/>
<apps:property name='sizeOperator' value='s_sl'/>
<apps:property name='sizeUnit' value='s_smb'/> </entry><entry><category term='filter'></category>
<title>Mail Filter</title>
<id>tag:mail.google.com,2008:filter:1583315594824</id><updated>2020-03-04T15:23:14Z</updated><content></content><apps:property name='from' value='[email protected] OR [email protected] OR [email protected] OR [email protected] OR [email protected] OR [email protected] OR [email protected] OR [email protected] OR [email protected] OR [email protected] OR [email protected] OR [email protected] OR [email protected] OR [email protected] OR [email protected] OR [email protected] OR [email protected] OR [email protected] OR [email protected] OR [email protected] OR [email protected] OR [email protected] OR [email protected] OR [email protected] OR [email protected] OR [email protected] OR [email protected] OR [email protected] OR [email protected] OR [email protected] OR [email protected] OR [email protected] OR [email protected] OR [email protected] OR [email protected] OR [email protected] OR [email protected] OR [email protected] OR [email protected] OR [email protected] OR [email protected] OR [email protected] OR [email protected] OR [email protected] OR [email protected] OR [email protected] OR [email protected] OR [email protected] OR [email protected] OR [email protected] OR [email protected] OR [email protected] OR [email protected]'/><apps:property name='shouldTrash' value='true'/>
<apps:property name='shouldNeverSpam' value='true'/>
<apps:property name='sizeOperator' value='s_sl'/>
<apps:property name='sizeUnit' value='s_smb'/> </entry><entry><category term='filter'></category>
<title>Mail Filter</title>
<id>tag:mail.google.com,2008:filter:1583315594825</id><updated>2020-03-04T15:23:14Z</updated><content></content><apps:property name='from' value='[email protected] OR [email protected] OR [email protected] OR [email protected] OR [email protected] OR [email protected] OR s[email protected] OR [email protected] OR [email protected] OR [email protected] OR [email protected] OR [email protected] OR [email protected] OR [email protected] OR [email protected] OR [email protected] OR [email protected] OR [email protected] OR [email protected] OR [email protected] OR [email protected] OR [email protected] OR [email protected] OR [email protected] OR [email protected] OR [email protected] OR [email protected] OR [email protected] OR [email protected] OR [email protected] OR [email protected] OR [email protected] OR [email protected] OR [email protected] OR [email protected] OR [email protected] OR [email protected] OR [email protected] OR [email protected] OR [email protected] OR [email protected] OR [email protected] OR [email protected] OR [email protected] OR [email protected] OR [email protected] OR [email protected] OR [email protected]'/><apps:property name='shouldTrash' value='true'/>
<apps:property name='shouldNeverSpam' value='true'/>
<apps:property name='sizeOperator' value='s_sl'/>
<apps:property name='sizeUnit' value='s_smb'/> </entry><entry><category term='filter'></category>
<title>Mail Filter</title>
<id>tag:mail.google.com,2008:filter:1583315594825</id><updated>2020-03-04T15:23:14Z</updated><content></content><apps:property name='from' value='[email protected] OR [email protected] OR [email protected] OR [email protected] OR [email protected] OR [email protected] OR [email protected] OR [email protected] OR [email protected] OR [email protected] OR [email protected] OR [email protected] OR [email protected] OR [email protected] OR [email protected] OR [email protected] OR va.loan.#[email protected] OR [email protected] OR [email protected] OR [email protected] OR [email protected] OR w[email protected] OR [email protected] OR [email protected] OR [email protected] OR [email protected] OR [email protected] OR [email protected] OR [email protected] OR [email protected] OR [email protected] OR [email protected] OR [email protected] OR [email protected] OR [email protected] OR [email protected] OR [email protected] OR [email protected] OR y17r33o2ysqhe8msfgcemgh9kay0teiu4djxhpweyo4g3gc1nrnegohgmmixkmhtnait7cvkvbcsvzjbbtuvyrjd5u6wenqoahm7x8z7dnt25trcejn0imqrvqhfawzzyvaplesww9ocza4wvpkeui3539x@oldycg.bestgymworkoutroutines.com OR [email protected] OR [email protected] OR [email protected] OR [email protected] OR [email protected]'/><apps:property name='shouldTrash' value='true'/>
<apps:property name='shouldNeverSpam' value='true'/>
<apps:property name='sizeOperator' value='s_sl'/>
<apps:property name='sizeUnit' value='s_smb'/> </entry></feed&





Some of the spam email addresses in my filter list:




Note: You might have to create multiple filters because one search can not contain more than 1000 characters





[email protected]
[email protected]
[email protected]
[email protected]
[email protected]
[email protected]
[email protected]
[email protected]
[email protected]
[email protected]
[email protected]
9y4m4andv1yhs7jvq4bbwxtv5yiporhlw97iztitqry09glpva07pfdufxzhsjqqlkm7zsfjfs5nvjxz2ubonhenzxozlv24vyftfpwly68sbeddaxwnxtkgbe7mhadyk199bwlwxzcdapz3vtm7xww1rlq@wv8nmu.bestgymworkoutroutines.com
[email protected]
[email protected]
[email protected]
[email protected]
[email protected]
[email protected]
[email protected]
[email protected]
[email protected]
[email protected]
[email protected]
[email protected]
[email protected]
[email protected]
[email protected]
[email protected]
[email protected]
[email protected]
[email protected]
[email protected]
[email protected]
[email protected]
[email protected]
[email protected]
[email protected]
[email protected]
[email protected]
[email protected]
[email protected]
[email protected]
[email protected]
[email protected]
[email protected]
[email protected]
[email protected]
[email protected]
anilkumar0[email protected]
[email protected]
[email protected]
[email protected]
[email protected]
[email protected]
[email protected]
[email protected]
[email protected]
[email protected]
[email protected]
[email protected]
[email protected]
[email protected]
[email protected]
[email protected]
[email protected]
[email protected]
[email protected]
[email protected]
[email protected]
[email protected]
[email protected]
[email protected]
[email protected]
[email protected]
[email protected]
[email protected]
[email protected]
[email protected]
[email protected]
[email protected]
[email protected]
[email protected]
[email protected]
[email protected]
[email protected]
[email protected]
[email protected]
[email protected]
[email protected]
[email protected]
[email protected]
[email protected]
[email protected]
[email protected]
[email protected]
[email protected]
[email protected]
[email protected]
[email protected]
[email protected]
[email protected]
[email protected]
[email protected]
[email protected]
[email protected]
[email protected]
[email protected]
[email protected]
[email protected]
[email protected]
[email protected]
[email protected]
[email protected]
[email protected]
[email protected]
[email protected]
[email protected]
[email protected]
[email protected]
[email protected]
[email protected]
[email protected]
[email protected]
[email protected]
[email protected]
[email protected]
dimp[email protected]
[email protected]
[email protected]
[email protected]
[email protected]
[email protected]
[email protected]
[email protected]
[email protected]
[email protected]
[email protected]
[email protected]
[email protected]
[email protected]
[email protected]
[email protected]
[email protected]
[email protected]
[email protected]
[email protected]
[email protected]
[email protected]
[email protected]
[email protected]
[email protected]
[email protected]
[email protected]
[email protected]
[email protected]
[email protected]
[email protected]
[email protected]
[email protected]
[email protected]
[email protected]
[email protected]
[email protected]
[email protected]
[email protected]
[email protected]
[email protected]
[email protected]
[email protected]
[email protected]
[email protected]
[email protected]
[email protected]
[email protected]
[email protected]
[email protected]
[email protected]
[email protected]
[email protected]
[email protected]
[email protected]
[email protected]
[email protected]
[email protected]
[email protected]
[email protected]
[email protected]
[email protected]
[email protected]
[email protected]
[email protected]
[email protected]
[email protected]
[email protected]
[email protected]
[email protected]
[email protected]
[email protected]
[email protected]
[email protected]
[email protected]
[email protected]
[email protected]
[email protected]
[email protected]
[email protected]
[email protected]
[email protected]
[email protected]
[email protected]
[email protected]
[email protected]
[email protected]
[email protected]
[email protected]
[email protected]
[email protected]
[email protected]
[email protected]
[email protected]
[email protected]
[email protected]
[email protected]
[email protected]
[email protected]
[email protected]
[email protected]
[email protected]
[email protected]
[email protected]
[email protected]
[email protected]
[email protected]
[email protected]
[email protected]
[email protected]
[email protected]
[email protected]
[email protected]
[email protected]
[email protected]
[email protected]
[email protected]
[email protected]
[email protected]
[email protected]
[email protected]
[email protected]
[email protected]
[email protected]
[email protected]
[email protected]
[email protected]
[email protected]
[email protected]
[email protected]
[email protected]
[email protected]
[email protected]
[email protected]
[email protected]
[email protected]
[email protected]
[email protected]
[email protected]
[email protected]
[email protected]
[email protected]
[email protected]
[email protected]
[email protected]
[email protected]
[email protected]
[email protected]
[email protected]
[email protected]
[email protected]
[email protected]
[email protected]
[email protected]
[email protected]
[email protected]
[email protected]
[email protected]
[email protected]
[email protected]
[email protected]
[email protected]
[email protected]
[email protected]
[email protected]
[email protected]
[email protected]
infonugascoegbagirest-123464[email protected]
[email protected]
[email protected]
[email protected]
[email protected]
[email protected]
[email protected]
[email protected]
[email protected]
[email protected]
[email protected]
[email protected]
[email protected]
[email protected]
[email protected]
[email protected]
[email protected]
[email protected]
[email protected]
[email protected]
[email protected]
[email protected]
[email protected]
[email protected]
[email protected]
[email protected]
[email protected]
[email protected]
[email protected]
[email protected]
[email protected]
[email protected]
[email protected]
[email protected]
[email protected]
[email protected]
[email protected]
[email protected]
[email protected]
[email protected]
[email protected]
[email protected]
[email protected]
[email protected]
[email protected]
[email protected]
[email protected]
[email protected]
[email protected]
[email protected]
[email protected]
[email protected]
[email protected]
[email protected]
[email protected]
[email protected]
[email protected]
[email protected]
[email protected]
[email protected]
[email protected]
[email protected]
[email protected]
[email protected]
[email protected]
[email protected]
[email protected]
[email protected]
men'[email protected]
[email protected]
[email protected]
mi4r0afsovflhcrftx94q9lfpstgmoiz6gni92sjbffurhgrr2ile4ao0lsaxwmdtqwc09cqfxx7jrr1x03xtnryqrnfbbwofhbi4mbl0qxokceuydwr7rveetjrppxnywqn6agv1oyqa66sybsz5kryzu4@bkd7hb.bestgymworkoutroutines.com
[email protected]
[email protected]
[email protected]
[email protected]
[email protected]
[email protected]
[email protected]
[email protected]
[email protected]
[email protected]
[email protected]
[email protected]
[email protected]
[email protected]
[email protected]
[email protected]
[email protected]
[email protected]
[email protected]
[email protected]
[email protected]
[email protected]
[email protected]
[email protected]
[email protected]
[email protected]
[email protected]
[email protected]
[email protected]
[email protected]
[email protected]
[email protected]
[email protected]
[email protected]
[email protected]
[email protected]
[email protected]
[email protected]
[email protected]
[email protected]
[email protected]
[email protected]
[email protected]
[email protected]
[email protected]
[email protected]
[email protected]
[email protected]
[email protected]
[email protected]
[email protected]
[email protected]
[email protected]
[email protected]
[email protected]
[email protected]
[email protected]
[email protected]
[email protected]
[email protected]
[email protected]
[email protected]
[email protected]
[email protected]
[email protected]
[email protected]
[email protected]
[email protected]
[email protected]
[email protected]
[email protected]
[email protected]
[email protected]
[email protected]
[email protected]
[email protected]
[email protected]
[email protected]
[email protected]
[email protected]
[email protected]
[email protected]
[email protected]
[email protected]
[email protected]
[email protected]
[email protected]
[email protected]
[email protected]
[email protected]
[email protected]
[email protected]
[email protected]
[email protected]
[email protected]
[email protected]
[email protected]
[email protected]
[email protected]
[email protected]
[email protected]
[email protected]
[email protected]
[email protected]
[email protected]
[email protected]
[email protected]
[email protected]
[email protected]
[email protected]
[email protected]
[email protected]
[email protected]
[email protected]
[email protected]
[email protected]
pxxdmq2sexjjz6cdggrizvmg3aejy4mb5yhqijcevfwngmxrblptzdiynudkq1fe1nmxpafrjrrbp734op9kcbst9fcuas91e7qyshjvh6oduvjeefk2euvpmadrwzpollvkpiebcolavby4tmb1im4ddig@xulpmm.bestgymworkoutroutines.com
[email protected]
[email protected]
[email protected]
rankingserv[email protected]
[email protected]
[email protected]
[email protected]
[email protected]
[email protected]
[email protected]
[email protected]
[email protected]
[email protected]
[email protected]
[email protected]
[email protected]
[email protected]
[email protected]
[email protected]
[email protected]
[email protected]
[email protected]
[email protected]
[email protected]
[email protected]
[email protected]
[email protected]
[email protected]
[email protected]
[email protected]
[email protected]
[email protected]
[email protected]
[email protected]
[email protected]
[email protected]
[email protected]
[email protected]
[email protected]
[email protected]
[email protected]
[email protected]
[email protected]
[email protected]
[email protected]
[email protected]
[email protected]
[email protected]
[email protected]
[email protected]
[email protected]
[email protected]
[email protected]
[email protected]
[email protected]
[email protected]
[email protected]
[email protected]
[email protected]
[email protected]
[email protected]
[email protected]
[email protected]
[email protected]
[email protected]
[email protected]
[email protected]
[email protected]
[email protected]
[email protected]
[email protected]
[email protected]
[email protected]
[email protected]
[email protected]
[email protected]
[email protected]
[email protected]
[email protected]
[email protected]
[email protected]
[email protected]
[email protected]
[email protected]
[email protected]
[email protected]
[email protected]
[email protected]
[email protected]
[email protected]
[email protected]
[email protected]
[email protected]
[email protected]
[email protected]
[email protected]
[email protected]
[email protected]
[email protected]
[email protected]
[email protected]
[email protected]
[email protected]
[email protected]
[email protected]
[email protected]
[email protected]
[email protected]
[email protected]
[email protected]
[email protected]
[email protected]
[email protected]
[email protected]
[email protected]
[email protected]
[email protected]
[email protected]
[email protected]
[email protected]
[email protected]
[email protected]
[email protected]
[email protected]
[email protected]
[email protected]
[email protected]
[email protected]
[email protected]
[email protected]
[email protected]
[email protected]
[email protected]
[email protected]
[email protected]
[email protected]
[email protected]
[email protected]
[email protected]
[email protected]
[email protected]
[email protected]
[email protected]
[email protected]
[email protected]
[email protected]
[email protected]
[email protected]
[email protected]
[email protected]
va.loan.#[email protected]
[email protected]
[email protected]
[email protected]
[email protected]
[email protected]
[email protected]
[email protected]
[email protected]
[email protected]
[email protected]
[email protected]
[email protected]
[email protected]
[email protected]
[email protected]
[email protected]
[email protected]
[email protected]
[email protected]
[email protected]
[email protected]
y17r33o2ysqhe8msfgcemgh9kay0teiu4djxhpweyo4g3gc1nrnegohgmmixkmhtnait7cvkvbcsvzjbbtuvyrjd5u6wenqoahm7x8z7dnt25trcejn0imqrvqhfawzzyvaplesww9ocza4wvpkeui3539x@oldycg.bestgymworkoutroutines.com
[email protected]
[email protected]
[email protected]
[email protected]
[email protected]







Latest way to be followed for SPAM blocking is as follows:




Do NOT follow both the procedures, only one of these is enough





Step 2: Go to Settings




Gmail settings




Step 3: Delete all previous filters if any, and then click on Import Filters




Click on Import Filters




Step 4: Upload the xml file that you downloaded from here: Link to filters in xml




choose xml file to import




Step 5: Click on open file and then you will see that all filters are loaded. Make sure you tick Apply new filters to existing email. and then click on Create Filters




Create Filters




Step 6: There is no step 6, wait and watch. All those filters will get created and will make you rid of SPAM